Cosmetic Services
At Westmoreland Dermatology, we provide various Cosmetic Services.
Chemical Peels
Chemical peeling is a technique used to improve the appearance of the skin which is typically performed on the face, neck or hands. In this treatment, a chemical solution is applied to the skin that causes exfoliation. The new, regenerated skin is usually smoother and less wrinkled than the old skin.
Dermatologic surgeons have used various peeling agents for the last 50 years and are experts in performing multiple types of chemical peels. A thorough evaluation is imperative before embarking upon a chemical peel to determine the appropriate type of peel and strength to meet an individual's expectations.
At Westmoreland Dermatology and Surgery Center, our aesthetics team utilizes a wide variety of specialty chemical peels, individualized to meet their patient's needs. Custom peels are available.
What Can a Chemical Peel Do?
Chemical peeling is often used to treat fine lines under the eyes and around the mouth. Wrinkles caused by sun damage, aging and hereditary factors can often be reduced or even eliminated with this procedure. Mild scarring and certain types of acne can also be treated with chemical peels. In addition, pigmentation of the skin in the form of sun spots, age spots, liver spots, freckles, splotching due to taking birth control pills, and skin that is dull in texture and color may be improved with chemical peeling.
How Are Chemical Peels Performed?
A chemical peel can be performed in a doctor's office or in a surgery center as an out-patient procedure. At the time of treatment, the skin is thoroughly cleansed with an agent that removes excess oils, and the eyes and hair are protected. One or more chemical solutions - an alpha hydroxy acid, such as glycolic acid, salicylic acid, or lactic acid; trichloroacetic acid (TCA); or carbolic acid (phenol) - are used. Dermatologists are well qualified to select the proper peeling agent based upon the type of skin damage present. The SkinCare specialists at Westmoreland Dermatology and Surgery Center are experts in the application of chemical peels and work with their patients before, during, and after the procedure to ensure the best possible results.
Microdermabrasion
A minimally invasive procedure which can be done on a regular and repetitive basis to remove the most superficial layers of dead skin cells in order to produce a rejuvenated skin appearance. Microdermabrasion can also be helpful in removing blackheads and whiteheads of comedonal acne.
Benefits:
-Virtually no side effects.
-Gives the skin an overall fresh, healthy-looking glow.
-Nonsurgical, safe, effective "lunch hour" procedure.
-Effective on all skin colors and types.
-No anesthetic required.
-Excellent for skin sensitive to chemical procedures.
-Normal activities can be resumed immediately.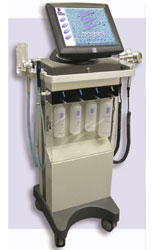 HydraFacial is a new breakthrough in aesthetic technology. The HydraFacial takes its name from the root word hydrate: "to cause to take up moisture". This ability to moisturize the skin separates the HydraFacial from all other skin resurfacing procedures. The HydraFacial removes dead skin cells and impurities while simultaneously bathing the new skin with cleansing, hydrating, and moisturizing serums. The treatment is soothing, refreshing, non-irritating and immediately effective.
Teen Facial
Cleanse and exfoliate your teen's face. We will also discuss the importance of skin care.
European Facial
For the latest in vitamin repair and hydroxy acid exfoliation, try our most popular treatment. Designed to treat prematurely-aging skin conditions. Every step delivers potent, skin repairing vitamins to help repair damaged skin while alleviating its symptoms. This treatment also includes a non-irritating vitamin power exfoliation and a vitamin recovery masque to noticeably improve skin elasticity, tone, and texture. To make this treatment complete we include a luxurious massage of the decollete and neck.
Acne Facial w/Extractions
This treatment is the ultimate in acne management because it targets current blemishes while helping to prevent future breakout activity. Our Medicated Clearing Treatment will focus on purifying your skin with deep-pore cleansing followed by extractions.
Express/Refresher Facial
A follow up facial to maintain a healthy complexion, which includes double cleansing under warm steam, mild exfoliation with the latest technology products, a masque that is custom blended for each client's needs, and finally a light hydrating massage of the face and decollete.
Face & Body Waxing